Portable, versatile, multiproject, fast server based on nginx!
Use features of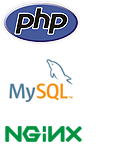 PHP extensions for 99% web apps.
Debug with Xdebug and its client XDC.
Run encoded scripts by Zend Guard Loader, ionCube Loader.
Includes phpMyAdmin, Adminer, RockMongo, phpMemcachedAdmin, HeidiSQL.
Winginx PHP5 Config to configure PHP.
Try out

Node.js works as standalone server. Together with nginx, it's a perfect duo!
Package Manager NPM is included.
Popular Express.js web framework and Jade template engine.
Debug with Node-Inspector.
Run settings of Node.js scripts in a config file or using Winginx TM.
NoSQL trend:

A collection of

Use Winginx TM to create a website based on a CMS or a web framework.
Right now available engines are WordPress, Drupal, Joomla, MODX, Kohana, etc.
Friendly URL (rewrite rules for nginx) are installed automatically!
A small helper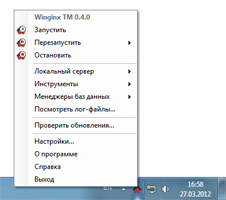 Winginx Tray Manager is usefull to start, restart and stop the server.
Also it helps you to create a website with individual settings and CMS.
Any settings are at hand. It's convenient!
Integrated update center makes you be a trend.
Working in the system tray and making no noise :)